Mezintel Gamma can automatically generate and email predefined MWD reports — a collection that includes
Survey reports (TXT, CSV, XLS files)
LAS reports, and
Log plots (PDF and TIFF).
Download Brochure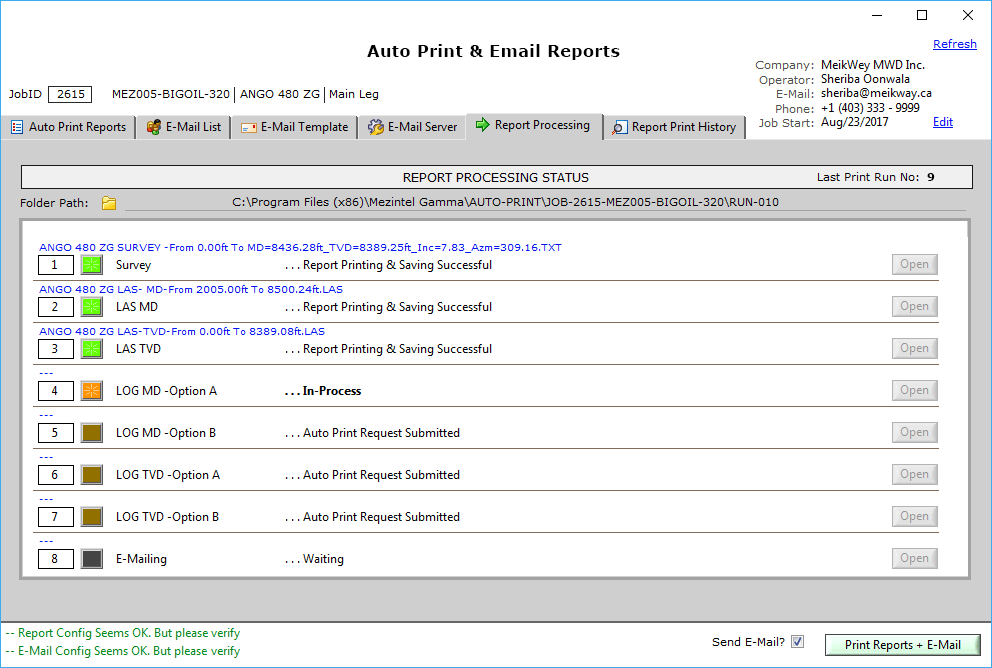 There's no extra charge to use this automated reporting feature.
Simply upgrade to the latest version of Mezintel Gamma, and find the feature from the top main menu: Reports > Auto-Reports and E-mail


Why Automate MWD Reporting?
Producing a collection of surveys, LAS, and logs can take 20 — 60 minutes, and this excludes the time it takes to do any required editing. So, the ability to generate and email a collection of these measurement-while-drilling data files in a couple of clicks is a time-saver, particularly for jobs that require frequent reporting updates, i.e. every few hours or less, rather than just once or twice per day.
Reporting frequency is affected by several factors such as, drilling speed due to ground formation, well section of interest, client/geologist's preference, or regional practice (for example, our US customers tend to produce well logs much more frequently and routinely than our Canadian customers), etc.
Automating this reporting process redeems the time, potentially hours, it would otherwise take MWD operators to generate reports manually.


What's More? Reporting History.
Automated reporting feature in Mezintel Gamma also provides an organized history of print jobs that includes records of the sent reports, recipients, email message, and send status. MWD operators can open reports, and quickly resend any collection of reports listed in this history.
Benefits Summary:
Time savings of ~90% in reporting,
Fewer errors in report filenames and format,
Organised and traceable reporting history,
No more misplaced reports on the computer.
Options for configuring predefined MWD reports include
Choice of reports
Depth range,
Plot format (i.e. scale, grid, colours, surveys mapping, etc),
Filename
Email message customization with dynamic data placeholders.
Download Brochure